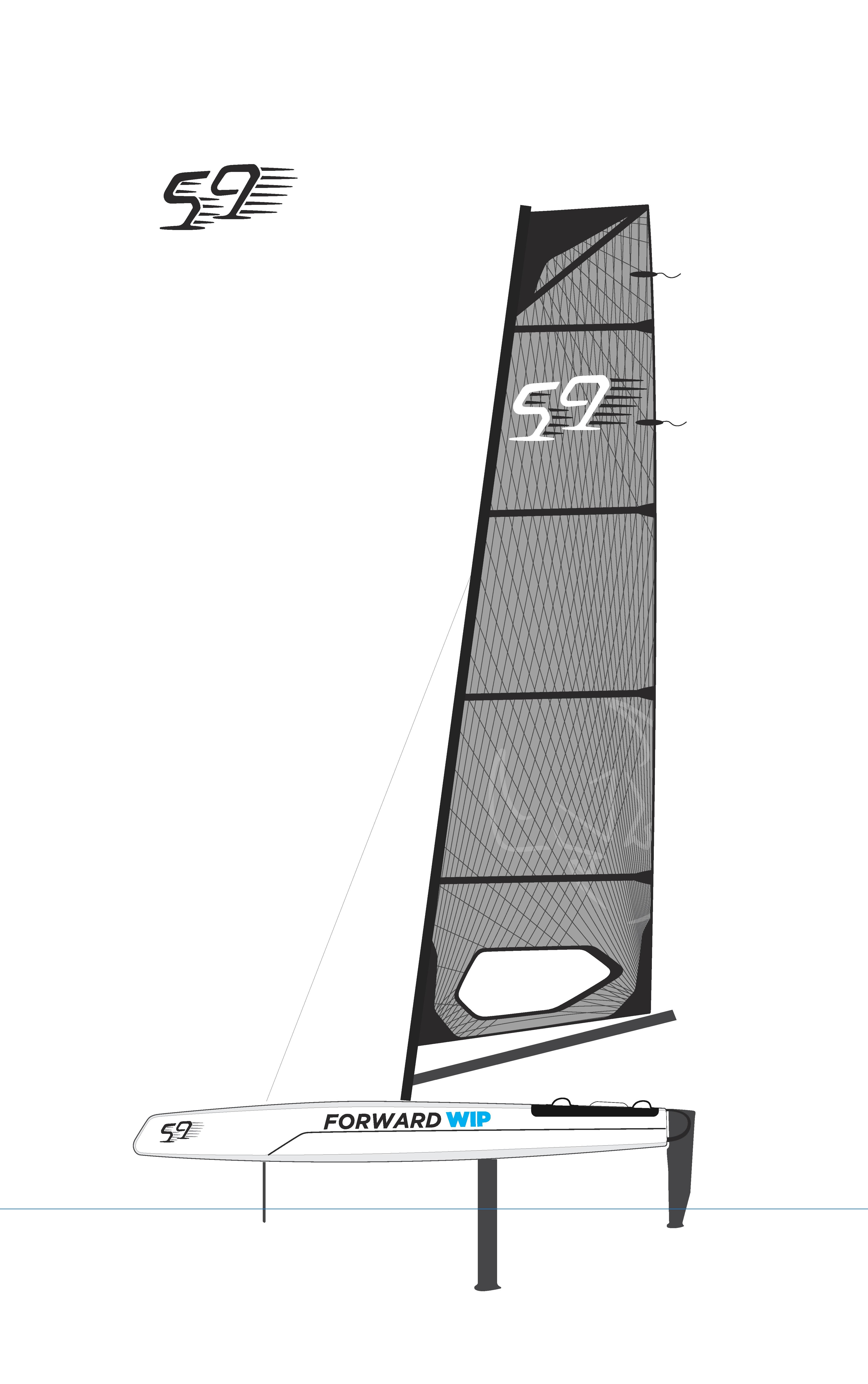 S9 catamaran foiler is now available
Here are the technical specifications of the catamaran:
Length 4.16 m
Width 2.36 m
Mast 7,5 m
Total sail area (including mast) 10.5 m2
Total weight 78 kg
Hull construction material: fiberglass/Carbon + ecpoxy resin, infusion system
Crossbars + telescopic tilter + mast + boom + T foil rudders + main T foil
All pre-preg carbon processed in an autoclave at 120 ° + 6 bar.
Harken Ronstan equipped
Price ex VAT: 16.600 €, complete, including boat cover, foils and rudder protection.
Including big weels beach trolley
(Delivery and set up charges may be applied)
Summary characteristics of the S9:
S9 is a monotype, a small high performance catamaran, simple and easy to use. It can be completely disassembled and each part can be substituted. S9 uses a system of "T" foil daggerboard with "hinged" flap, (in our opinion the most powerful of the classical systems). It  has been combined with an automatic adjustment system of the flap (WAND) that ensures the easiest use of the boat in full flight.
The front crossbar has a conical interlocking system which is unique: it ensures the same rigidity comparable to the modern bonded joints systems but very easy and quick to disassemble. The rear beam has three points to anchor the hull with three bolts per side.
The system of Wand can be easily disconnected under way to allow an easy return to the beach even in shallow water for the same reason rudders are swinging .
Even if designed to fly, the S9 can also be used with straight dagger boards in a standard way, for young kids for example or in light wind. The basic version "no fly" S9 still is a semi-planning cat that provides excellent performances and a lot of fun.
Behaviour:
S9 catamaran can start flying with 6 knots. It can fly upwind at 45° at 7 knots wind speed and downwind at 160°. (reaching maximum speed of 24,7 knots. (trying to sail faster become more dangerous) and) S9 has been designed to reach quickly 2 times the wind speed downwind. Thanks to good hull volume, the S9 can support a crew up to 95 kg in reasonable wind conditions.
The S9 foiling catamaran has adopted these technological choices and foil systems different from other flying catamarans (such as A Class  and C Class):
– S9 is the first foiling catamaran that uses 4 point constantly at work in the water; in past all others foiling catamaran use 3 point down working into the water but the S9 showed that 4 points are better than 3, with 4 we have best angles in upwind, better stability, maximum security, but keeping a very high VMG, and this allows us to be very fast and competitive during the race, then the new trend is to take example by adopting S9 4 foils down.
– It is impossible for a one crew cat to fly constantly and easily if you have continuously to adjust the foil angle. Two crews catamaran are using J foils as the crew can handle the rack adjustment of the foil. For these reasons we have adopted "T" foil with an automatic adjusting the trim tabs in foil, this is called "Wand". This system is used only in the "Moth", none of the recent projects Flying catamaran used this, we believe it is the most suitable system to a beach cat!